I really don't know what it is about this manicure but I adore it. Lahve it even. The fact that I kept it on my nails for more than a week (yes, viva my Revlon ColorStay Gel-Smooth Base Coat + Seche Vite Dry Fast Top Coat combo) speaks volumes; the fact that I used the spelling "lahve" speaks even louder.
This nude glitter mani was a team effort; three may be a crowd but
hot damn
can they work well together if the chemistry's there. Whether it's because all of the polishes are from H&M
—
a clothing-based company which never ceases to amaze me with their awesome cosmetics
—
or if I'm just really freaking good at combining different glitters (
guffaw
) but, regardless of reasoning, this trio really works.
If you watched
my "What I Got For Christmas 2014" video
then you would have seen this little "nail polish + glitter" kit
during the segment of gifts I received from my aunt/godmother. As I said before, I really have liked every single piece of makeup I've bought from H&M over the years (granted it hasn't been a ton,
buuuut
…) so I was pretty excited to see this in the bag of goodies she sent to me! Especially so because I had purchased a polish from H&M nearly identical to the one included in this kit a few years back, adored it for all of its perfection in polish form, and then came to find that they don't make that color anymore.
WHY
companies discontinue gorgeous and perfect products is beyond me but thankfully the polish in this kit is a near dupe; hooray! So happy to have it back in my stupidly large nail polish arsenal.
The other part of this kit is a little shaker of glitter. I felt like this inclusion was kind of gimmicky and quite possibly more for the younger crowd that surely shops at H&M but hey: I will never allow myself to be too old for glitter. Especially in my makeup. And while the glitter really is nothing different from the stuff you can buy in packets for pennies at your local craft store, the shaker is kind-of-sort-of-all-sorts-of-phenomenal. It doesn't dump the glitter out but rather does the perfect dusting on each nail with a couple of gentle shakes.
Unfortunately my nails just didn't feel 'finished' with the mere dusting copper glitter included in the kit; more glitter was needed and I knew exactly what to turn to to get the job done. Enter H&M's glitter top coat "Confetti time". I've actually featured this polish in
a manicure I did a long while back
but I feel like I don't blog about it as much as I sport it on my nails. It's just one of those classic mixes of different sizes and colors of glitters
—
pinks, blues, and golds, all in various round shapes and sizes, they're all there. Super fun to have layered on top of pretty much any base color of polish!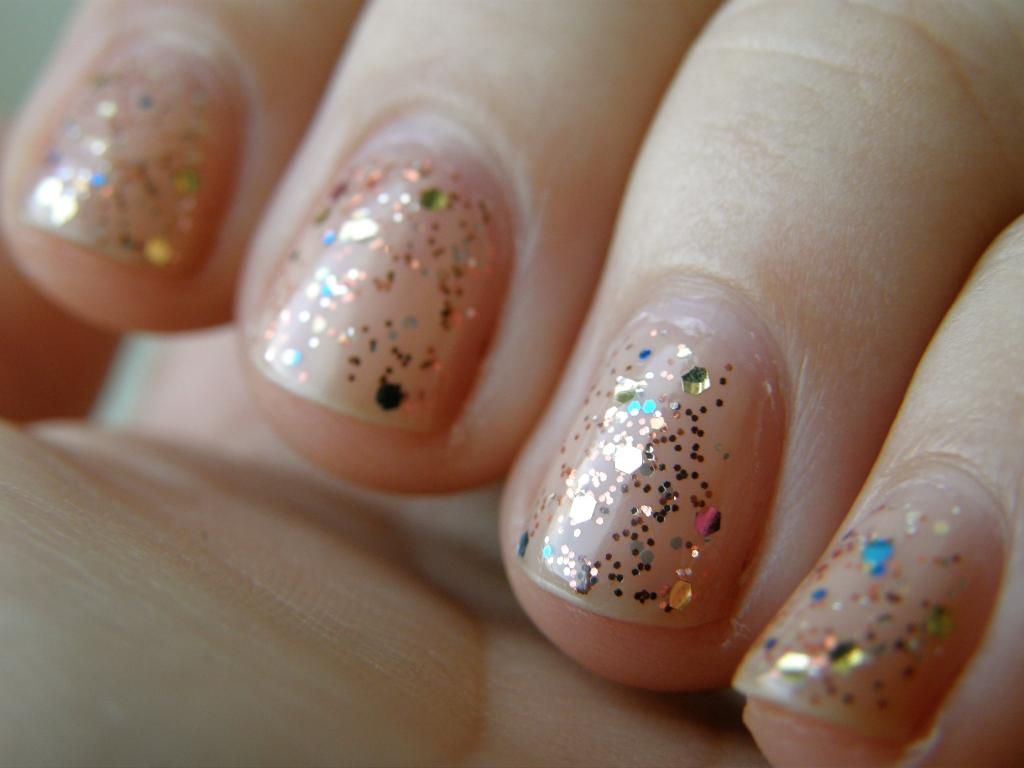 Shabam!! Like I said before: lahve it.
The combination of a nude base and a sprinkling of glitter just works. It's not too in your face yet manages to catch the light enough to dazzle passerby's eyes. Not to mention the fact that it goes with any outfit you could imagine. Decided on creams and neutrals? Nice. Nothing but vibrant colors in your ensemble? Classy. Wearing all black (aka my outfit of choice)? Perfection.
Have you tried any nail polishes from H&M?
Love 'em? Hate 'em?
What has been your current manicure go-to at the moment?
Do share!!
xoxo - Cassie